Save $19 by bundling Editing with Photoshop and Editing with Lightroom together and make the most out of your membership to Adobe Creative Cloud!
What's included:
Bonus: Deals section for discounts on our favorite photography and blogging tools.
These courses guide you through the basics of using Adobe Lightroom and Photoshop (Creative Cloud) when it comes to editing shots for your blog, social media, or family portraits.
The samples in this course are food based, but you can use the tools that are taught to grow your knowledge in other areas. Make your business pop!
By enrolling in this course you unlock lifetime access to Click Start Club's Editing with Lightroom and Photoshop. This means whenever new content and updates are added, you'll have access.
Who is the course for?
Bloggers looking to draw attention to their content, MLMs and social media marketers looking to create better images for their social channels, Etsy shop owners, parents who want to share off photos of their family - this course is for anyone who wants to expand their editing skills in a simple, and easy to follow way!
Editing with Photoshop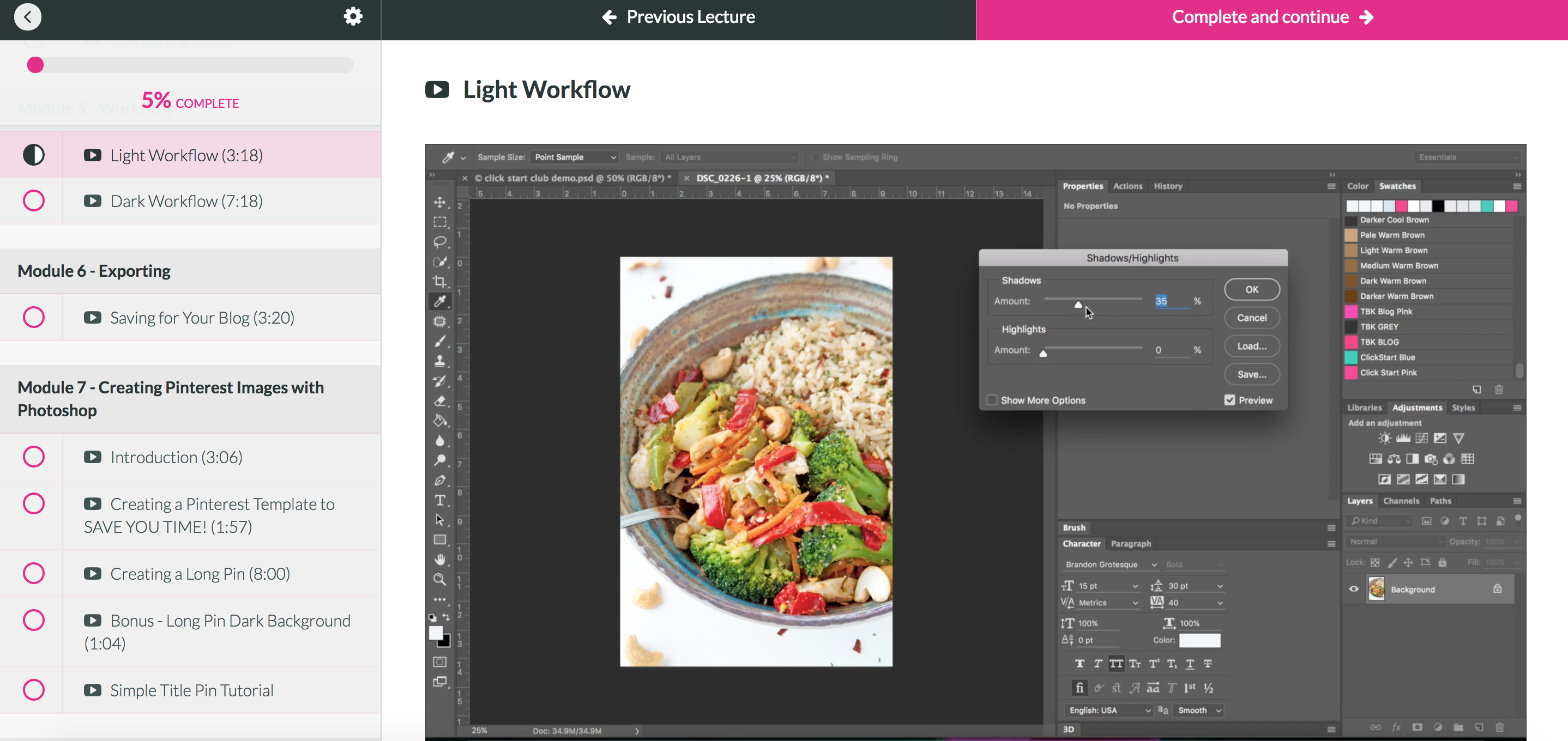 Module 1 - Setting Up Photoshop
In this module you'll learn how to set up your Photoshop, how to create meta data, creating a watermark action, how to save time with actions and batch automations plu show to create a watermark!
Module 2 - The Before Process
You'll learn my before process from setting up the shot to the culling process.
Module 3 - Adobe Camera Raw
Here is where you'll learn why raw is so darn awesome! From clippings to a sample editing flow, you'll see how raw can save your photos!
Module 4 - Photoshop
Levels, white balance, curves, vibrancy, color balance. Everything you need to turn your photos into quality images in this module!
Module 5 - Workflow
In this module I show how quick you can editing once you get the hang of it. I have a real time workflow with a light background and I show you how can change the mood of your photos with a darkflow.
Module 6 - Exporting
How to properly save for your blog and for web.
Module 7 - Creating Pinterest Images with Photoshop
Pinterest is a huge traffic driver for our blogs and I show you how we optimize our images for Pinterest traffic. This includes both title images, long pins, and how to create a Pinterest template that saves you time!
Bonuses + Extra Lessons
If that's not enough, we have some awesome bonuses that include
Photoshop shortcuts cheat sheet
How to expand your background
How to create a swatch panel in Photoshop
PLUS we have a deals section to SAVE YOU MONEY on our favorite tools for blogging/video/photography. We are working with some amazing partners to bring you savings on tools like Tailwind, WPEngine, Overhead Pro, and more.
Editing with Lightroom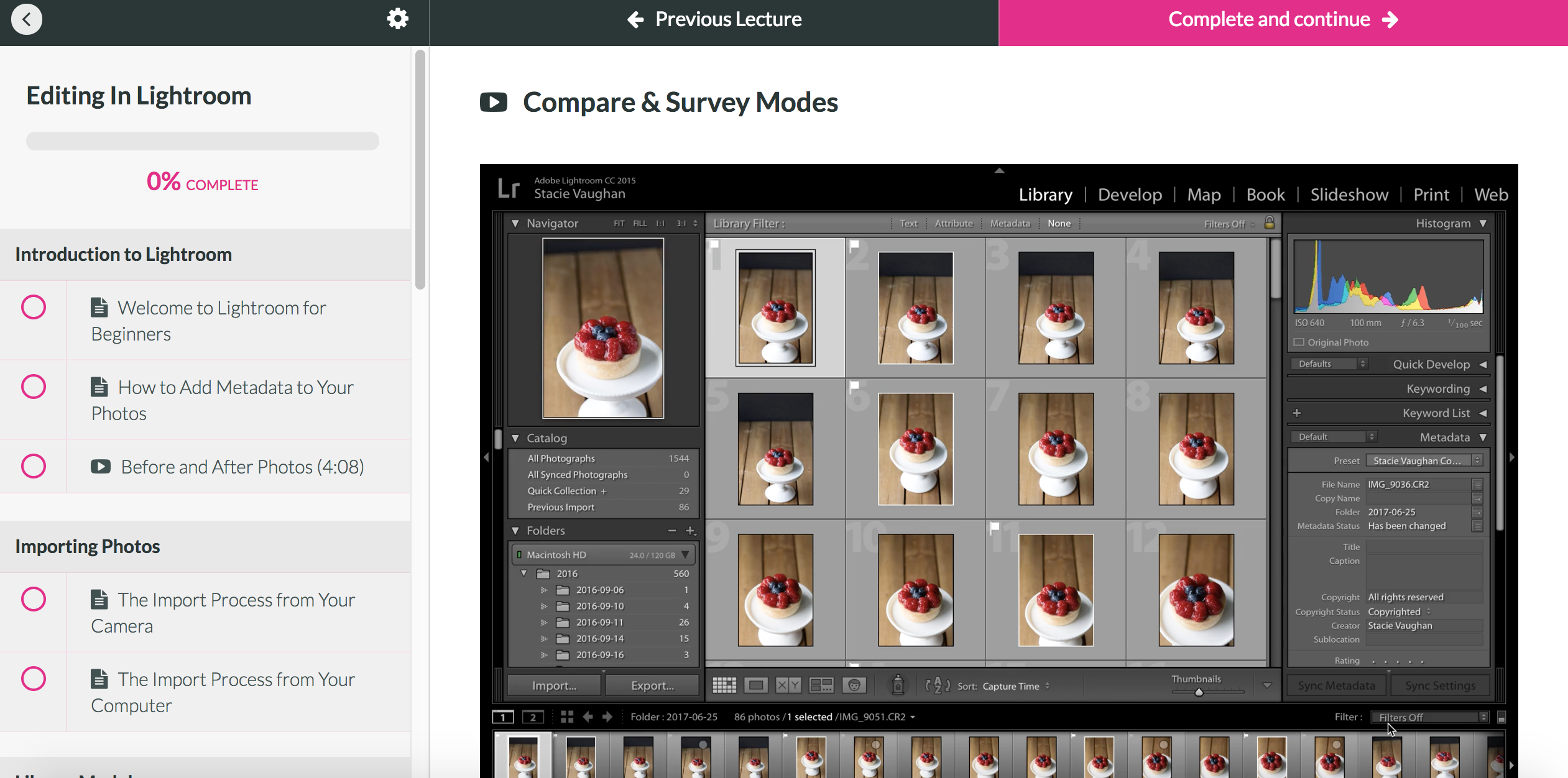 Introduction to Lightroom
How to add meta data and a before and after example
Importing Photos
Stacie shows the import process from both your computer or your camera.
Library Module
From the photo selection process, comparing images, survey modes and narrowing down the photos.
Develop Module
Stacie explains the histogram, cropping, the tone, lens correction, and more tools to perfect your images. This also includes a tutorial on presets and a workflow checklist.
Exporting Photos
How to create a watermark and how to full optimize your photos for your blog as you export.
EXCLUSIVE DEALS SECTION